Welcome at MELESSA!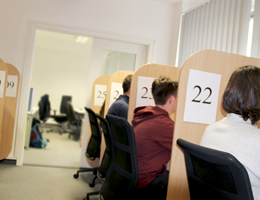 MELESSA is short for "Munich Experimental Laboratory for Economic and Social Sciences".
The laboratory is funded in part by the third funding line of the Excellence Initiative and is used for the experimental analysis of economic decision-making. Additionally, it aims to deepen the cooperation between economics, other social sciences and psychology.
You can participate in experiments and earn money. For a noncommittal registration in the participant system please read our information about the organization of experiments.
Announcements